Apple iPhone 15 Launch—Everything Announced at 'Wonderlust'
Broadcasting from Apple Park in Cupertino, California, Apple CEO Tim Cook and other executives are taking the stage Tuesday to announce updates to the company's major product lines. In the tradition of Apple's September events—usually more hardware-focused than the software-heavy WWDC in early summer—we're awaiting updates to the iPhone and Apple Watch as well as potential tweaks to AirPods. The iPhone may convert from Lightning charging to USB-C to comply with European Union law in a major shift. If it does, say goodbye to all your cords. It may also get a new button.
How To Prep Your iPhone or iPad Before Selling
The company is expected to launch the newest generation of iPhones at the event—iPhone 15, 15 Plus, 15 Pro, and 15 Pro Max. Along with the updated flagship smartphones, a new Apple Watch is anticipated, the Watch Series 9 and Ultra 2.
Watch the livestream of Apple's Wonderlust event:
Apple Event – September 12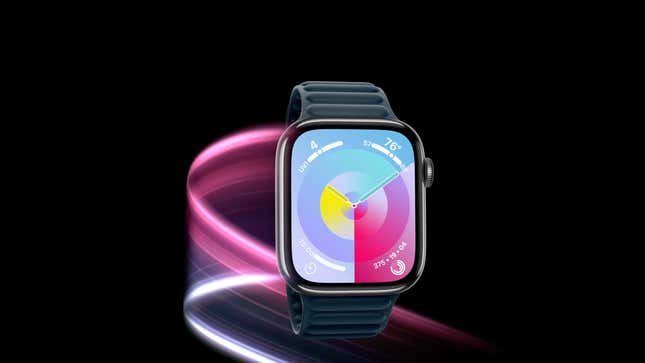 Screenshot: Apple
The event opened with testimonials from Apple Watch users who were notified of health problems by their Apple Watches or who were rescued from dire situations by its emergency contact features.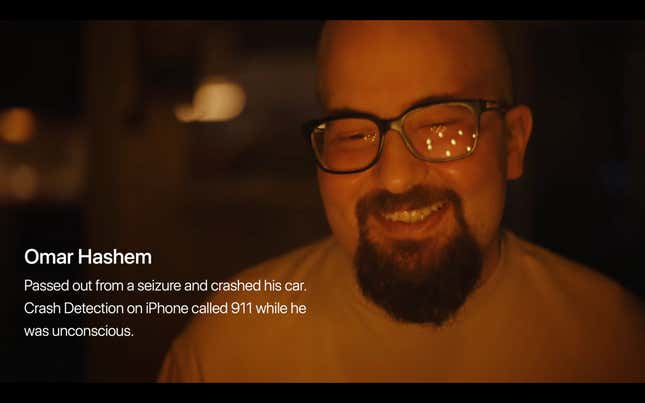 Screenshot: Apple
"It's amazing to see all the ways people use iPhone and Apple Watch," said Cook.
The company is adding a gesture to the repertoire used to control the watch, which it's calling "Double Tap." Users will tap the index fingers and thumbs of their watch hands twice to activate the main action of whatever is on the watch face such as a call.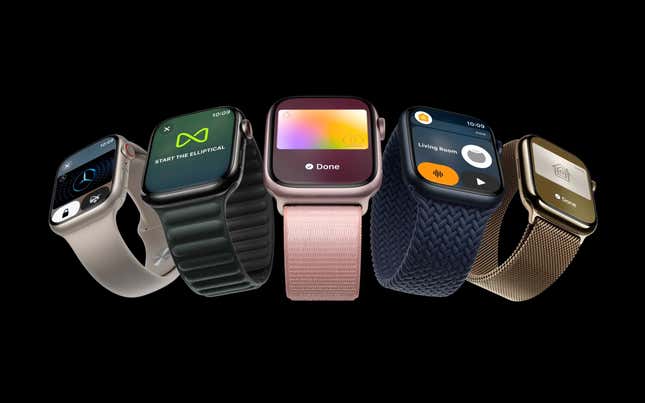 Screenshot: Apple
Both the Apple Watch and Apple Watch Ultra are getting a computing boost with Apple's S9 chip.
Gizmodo's Kyle Barr writes in our full story on the Apple Watch Series 9 and Ultra 2 announcement:
The regular Apple Watch with GPS starts at $399 with GPS and cellular connection starting at $499.
There's a slate of new Watch colors on offer, including pink aluminum, midnight, silver, and product red. The product also comes with metallics ranging from silver to gold to graphite.
The $799 Apple Watch Ultra 2 now has a 2.1-inch, always-on LTPO OLED screen compared to the original's 1.9-inch display. This is due to Apple shrinking the bezels on the screen, similar to what it's accomplished with the newly announced iPhone 15. The flat screen now pushes a "Modular Ultra" to the edge of the display, and it's also able to go extremely bright at 3,000 nits.
And if you're still wondering, the Ultra's screen is still flat compared to the regular Apple Watch's smaller waterfall design, which curves at its edges. It gets 36 hours of battery on a single charge and 72 hours in low power mode, according to Apple.
Apple ditches leather
As part of its environmental initiatives, Apple said it would no longer use leather in its future watch bands or iPhone cases. Instead, it's introducing a new textile it's calling "FineWoven" which the company claims is made out of 68% post consumer content. Apple showed off several examples of Fine Woven Watch straps which will have a "suede-like" feel. It's all part of a larger goal of developing completely carbon neutral products. The company said the Apple Watch Ultra would be completely carbon neutral.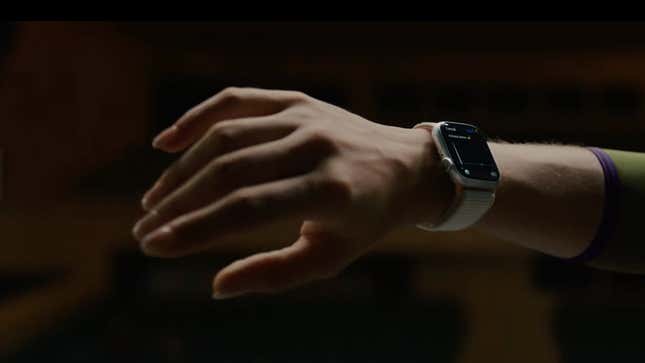 Screenshot: Apple
iPhone 15 and 15 Plus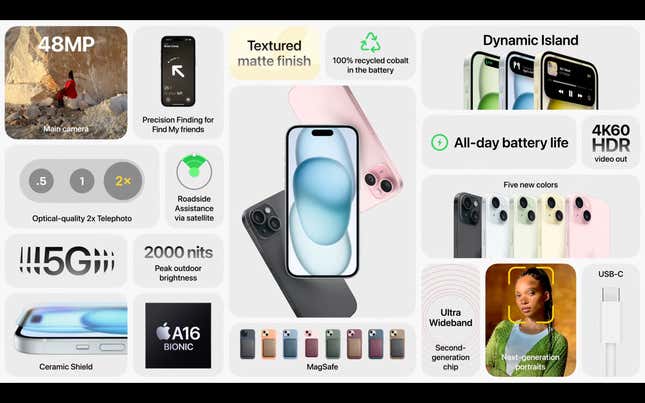 Screenshot: Apple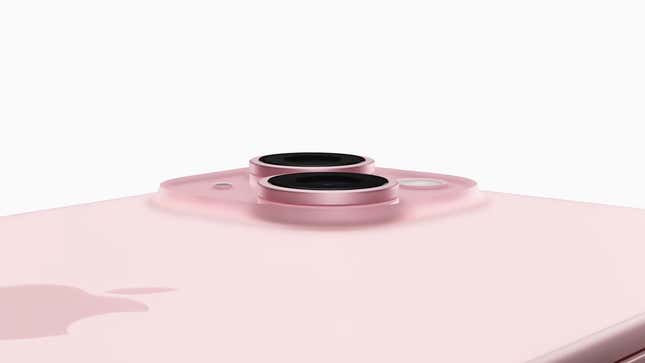 Screenshot: Apple
Apple is bringing the Dynamic Island—the modular replacement for the top of the phone's notch—to the regular iPhone line.
The iPhone 15 is bigger than its predecessor as well, with a 6.1″ display for the iPhone 15 and a 6.7″ display for the iPhone 15 Plus.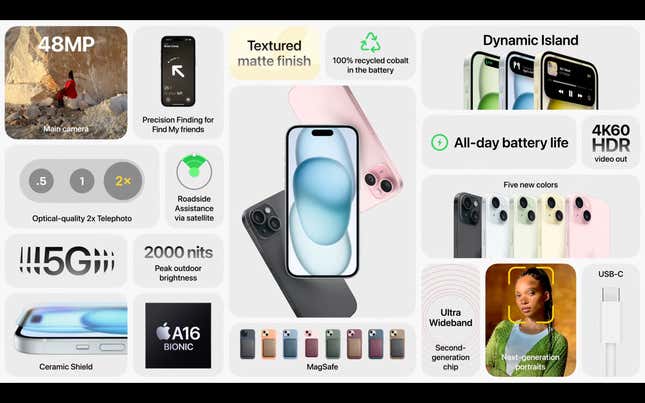 Screenshot: Apple
In camera updates, Apple said the iPhone 15's camera would automatically detect when a person (or a pet) was in the frame and turn on Portrait Mode's depth perception and differentiation.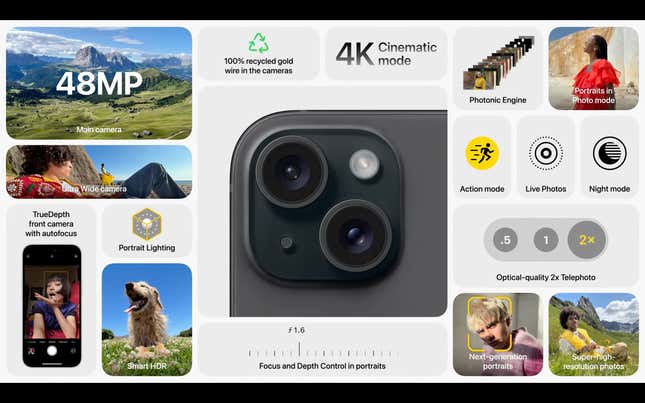 Screenshot: Apple
Updating the iPhone's safety features, Apple said it would include two years of AAA roadside assistance with its crash detection feature.
iPhone 15 Pro and Pro Max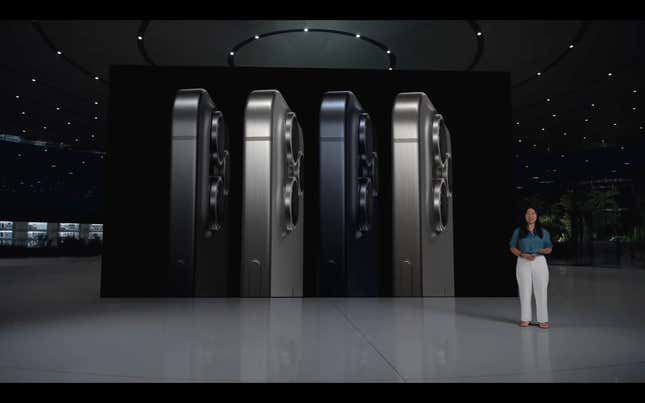 Screenshot: Apple
The iPhone 15 Pro will feature a titanium frame, thinner borders, and what Apple said was a stronger screen. It comes with a 6.1″ display for the Pro and a 6.7″ display for the Pro Max.
"It's the most 'Pro' iPhone we've ever created," said Cook.
Action button
Program your own shortcuts with a new button that comes built into the side of the iPhone 15 Pro's titanium case. The Action Button can be used as a mute switch, as is the case with current iPhones' switches, but you can tweak it to bring you to your favorite, most-needed app immediately.
Standby mode
Turn your iPhone 15 Pro on its side to change its display to something resembling a customizable alarm clock.
Apple Vision Pro

Updates on were slight on the headset, with Cook simply saying, "We're on track to ship by early next year."
This article is part of a developing story. Our writers and editors will be updating this page as new information is released. Please check back again in a few minutes to see the latest updates. Meanwhile, if you want more news coverage, check out our tech, science, or io9 front pages. And you can always see the most recent Gizmodo news stories at fotolitera.com/latest.