Book Barbie's Dreamhouse on Airbnb or Just Look at These Photos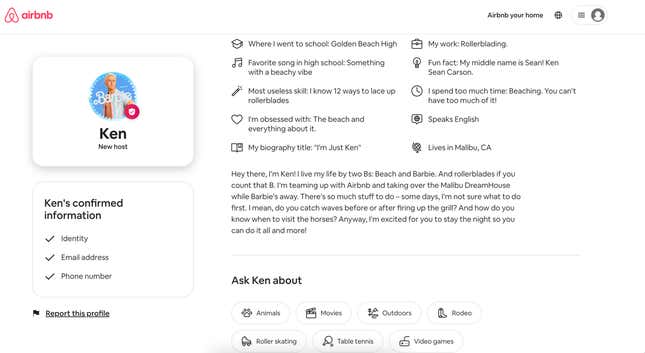 Photo: Airbnb
From the listing: "Welcome to my Kendom! While Barbie is away, she has handed over the keys to her Malibu DreamHouse this summer and my room could be yours for the night. I've added a few touches to bring some much-needed Kenergy to the newly renovated and iconic Malibu DreamHouse. Placed perfectly above the beach with panoramic views, this life-size toy pink mansion is a dream come true!
Situated along the stunning, photogenic coastline, the Malibu DreamHouse is a sunny surfer's sanctuary surrounded by beach, beach and more beach—just the way I like it.
I've decked out the place with a little more…well, me! I'm more than just beach! My cowboy stuff is great. And horses! Guitars, games and more. And of course, rollerblades, because I literally go nowhere without them. Now, guests can live it up Ken-style for a neon night in Barbie Land—six-pack not included.
During your stay, you will have the opportunity to live in technicolor by:
– Taking a spin through my awesome wardrobe to find your best beach fit. Look out Barbie, I've got quite the closet too!
– Channeling your inner cowboy and learning a line dance or two on my outdoor disco dance floor or performing a sunset serenade on my guitar
– Challenging your fellow guests to a "beach off" with plenty of sunbathing and chillaxing by the infinity pool
– Taking home a piece of my Kendom with your very own set of yellow-and-pink Impala skates and surfboard."