Disney Parks Chefs Talk Creating Star Wars and Marvel Food
It's a good time to be a Disney foodie if you're a Star Wars or Marvel Studios fan.
io9 Interview: Oscar Isaac Was 'All In' on Moon Knight
io9 recently visited Disney Parks for the media preview of Rogers: The Musical at Disney California Adventure to preview the show inspired by the scene in Disney+'s Hawkeye—we'll have more on that soon—but also to try out some of the Captain America NYC-inspired food, as well as other themed treats.
We found out more about what goes into making Marvel-lous meals and galactic goodies in conversation with Avengers Campus chef Jonathan Moshfegh, Galaxy's Edge chef Amy Benson, and Disney Food and Beverage representative David Nguyen.
Sabina Graves, io9: Obviously at io9 we're big fans of the Marvel and Star Wars universes. One of the things myself and my team talk about is, how do y'all create the amazing themed offerings for the different properties? At what point during a film or show in production are you given the heads-up for potential ideas to feature at the parks?
Amy Benson, Galaxy's Edge chef: We're given a pretty good heads up. We're given months in advance notice that something is coming down the pipeline. We're in meetings and discussions about what we could possibly do. We'll end up doing some form of a deck with inspiration pictures, just so we can get everything in the clear, and then we start conceptualizing towards that goal. Just trying to make sure that we're in the story and sticking to the images that are provided. At times there are no images, so we have to use our imaginations.
Jonathan Moshfegh, Avengers Campus chef: I mean, same thing like you've heard how tight the studios are with [Avengers Campus] IP—you know, they don't want any spoilers. So we get a little bits and then it's a team effort to kind of bring the movie to life through the food—a lot of back and forth and a lot of teamwork.
io9: The site's very big into sci-fi, obviously, and I think those are some of the most fun food creations I've seen. I came down for May the Fourth and I was able to try a few things that were the seasonal offerings for the month. What inspires the palate curation of flavors when it comes to creating things that look otherworldly but are still very accessible?
Benson: Well, on Batuu we're actually given quite a bit of freedom. And I think it's just the trust that we've already earned from Lucasfilm through [Walt Disney Imagineering]. So we'll take, say, a seasonal offering—we'll take something like your traditional holiday turkey, and we'll maybe look toward maybe like not doing a "turkey," but maybe a [turkey cosplaying as a Star Wars] Porg. Alternatively, we'll take the stuffing and see how we can look at the films, what we can get inspired by, and then maybe images and books. Also another thing is just looking up the different planets and seeing how maybe we can tie in a color or a swirl of some sort.
io9: Yes! I was particularly impressed by Grogu Snacky Sundae. It was incredible looking [see below; it features a chicken nugget, boba as eggs, and a gummy frog on ice cream]. At what point did that concept born out of the "chicky nuggie" meme become a fun thing to put together for Star Wars Nite?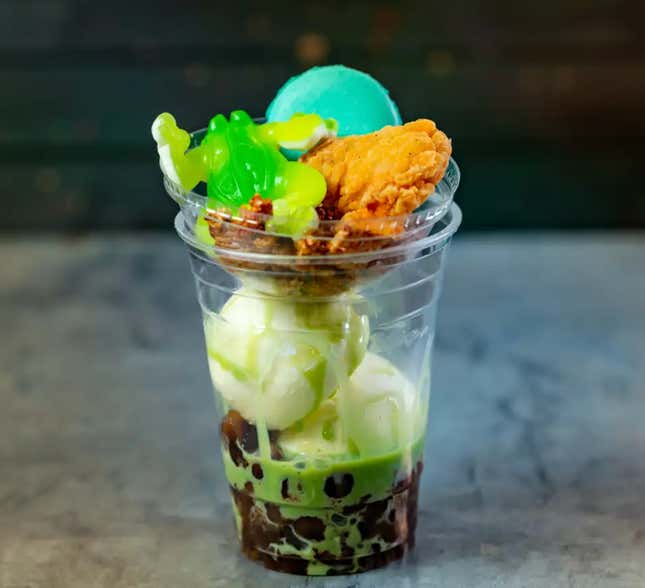 Photo: Disney Parks
Benson: That one [was actually created by] our neighbors [and] was done on Main Street for our Star Wars Nite during Disney After Dark. So at that point across the galaxy, we are now sharing the wealth of our Star Wars experience. And Main Street created this really cool chicken nuggie sundae because Grogu loves to just eat everything and it's him.
io9: And now it's canon—on The Mandalorian Grogu gets a little chicken nugget or I guess like a little tip-yip bite.
David Nguyen, Disney Food and Beverage representative: Yes, which is pretty much a giant chicken nugget! We're all fans of the movies and shows as well, so we love playing and making food fun. 
io9: For Guardians of the Galaxy, I'm sure it was fun creating those offerings for release of Vol. 3.
Moshfegh: I think one of the cool things we did was—if you've seen the movie, you know, "Drink the ooze."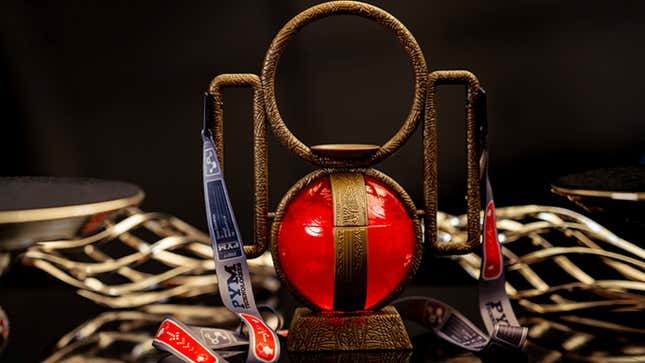 Image: Disney Parks
io9: Yeah, the ooze!
Moshfegh: So when we were tasked [with creating it], we obviously [weren't able to see the movie ahead of time], but like, hey, there's this ooze drink? Michael Douglas' character [Hank Pym] is the one that drinks it [and] he makes a face. So you need a drink that's going to be oozy [and] it's going to get you to make that face. It needs to resonate with with the guests and be flavorful. Everyone put their minds together and then we worked with our partners like, "Is this where we need to live? Oh yeah, this is amazing."
io9: Speaking of the ooze, I'm excited to talk about themed drink options. I have friends who thrive on the Cold Brew Black Caf from Galaxy's Edge.
Benson: We never thought it was going to take off like that. The inspiration, really, is we use a lot of Eastern flavors. Well, number one, because I love working with Eastern flavors. It's a big passion of mine. I learned very early on how to use the flavor profiles. One of them was like Taiwanese cheese foam. [The Cold Brew Black Caf] came from that and we just sweetened it up to satisfy the American palate. And then we figured, how do we top this in a fun way? And I mean, those chocolate spheres that we have on top here are the way to go. Still very Instagram-able and a big seller.
Nguyen: I love the texture of that. Yeah.
io9:  What can you all share has been maybe the most challenging food to translate from screen into the real life?
Benson: Honestly, it can be just the holidays, like something like Life Day, because there's so much, or May the Fourth or Black Spire Day. There's so much fan base behind it that we have to make sure that we please the masses. You know? Black Spire Day is a big holiday for Batuu, so we have to make sure that we wow them every single time.
Moshfegh: Yeah. And then at Avengers Campus, we've got Pym Test kitchen. We're growing solutions, shrinking problems. So we've got the scientific theme, we've got the large and small theme, and then we try to tie in the movies. And to kind of touch on all those points it's a challenge sometimes, with the little bites that we get from the movies and from WDI.
Nguyen: One of the ones that we did have was, "How do you make a fun sized candy bar into a gigantic one?", like the chocolate bar that we have, the Choco-Smash. And not only that, it has to be the most compelling: "Is it going to be a candy bar? Is it going to be cake? How big are we going to grow this thing? Or how small do we shrink it down to?" And then make it outstanding, where you can never get it anywhere else but here at the Disneyland resort. That's one thing that we always work toward to achieve—the best flavor profile and still make it fun.
io9: It's so fun. I'm a big fan of the [A Goofy Movie-inspired] Power Limes in Toontown—those are really cool and tie in so well with the theming there. All fandoms, even niche ones, are represented. I have to know: what has been your favorite dish to create in your favorite fandom?
Nguyen: That's a loaded question. Yeah, that's like picking your favorite baby. I can tell you one of my favorites that ever came out at Pym's Test Kitchen is the Not so Little chicken sandwich. You shrink [the bun] down to slider size and then you have this piece of chicken [that's bigger than the bun]. It's like playing with your food on every single level, [and] it's not just an ordinary chicken sandwich. It has a flavor of hot curry chicken on the outside—crispy, spongy, add slaw on top—and it has to stand out so much that when you look at it's like, "I want that." So that's my favorite creation that we do here.
Benson: The Ronto Wrap! I mean, that's such an iconic thing to come and have at the park every single time. It has to be very consistent every single time. But we had to create [a version] that was for our vegan guests, too. And I think that we executed it very well; it's still an extremely popular item. So that was really fun to be able to take something like the Ronto Wrap and just reimagine it into something that's vegan.
Moshfegh: I think the thing I'm most excited for, probably because it's on my mind because it's rolling out tomorrow, is the Shawarm-izza that's going to be at Shawarma [carts] along with the Rogers: The Musical activation. How do you do something New York, Brooklyn at a Shawarma location that fits the theme of Avengers Campus? I think that pizza wrap is going to hit pretty well. There's a Captain Everything Dog, too. It's got Everything Bagel seasoning on it. There's a red, white, and blue shake that's going to be at Schmoozies. We have a pastrami all-beef hotdog on a pretzel bun at Award Wieners. And then we have a nonalcoholic and alcoholic beverage over at the Hollywood Lounge fitting the red, white, and blue theme.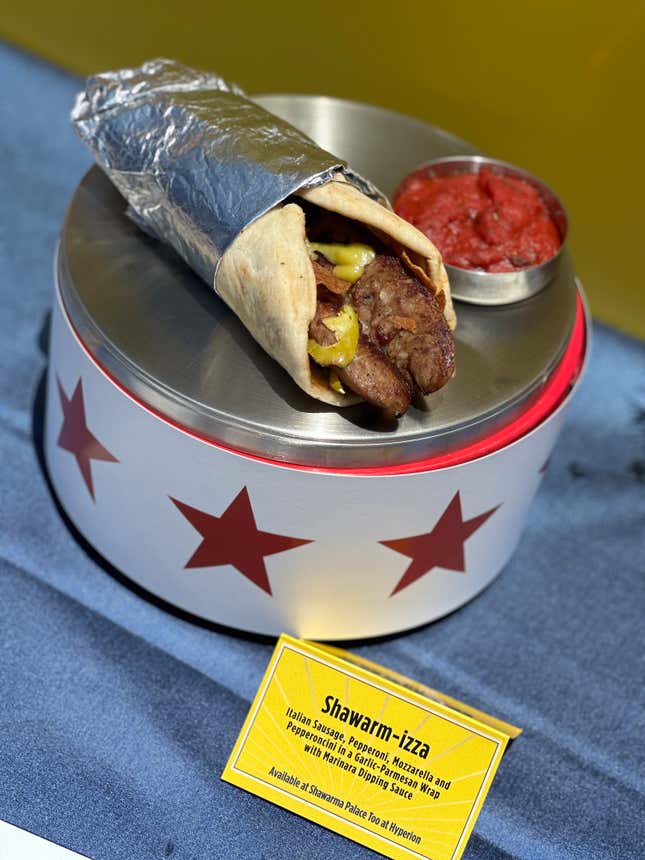 Photo: Disney Parks
io9: Definitely, like more along the lines of New York—like Broadway.
Moshfegh: Make it feel like you're going to the show.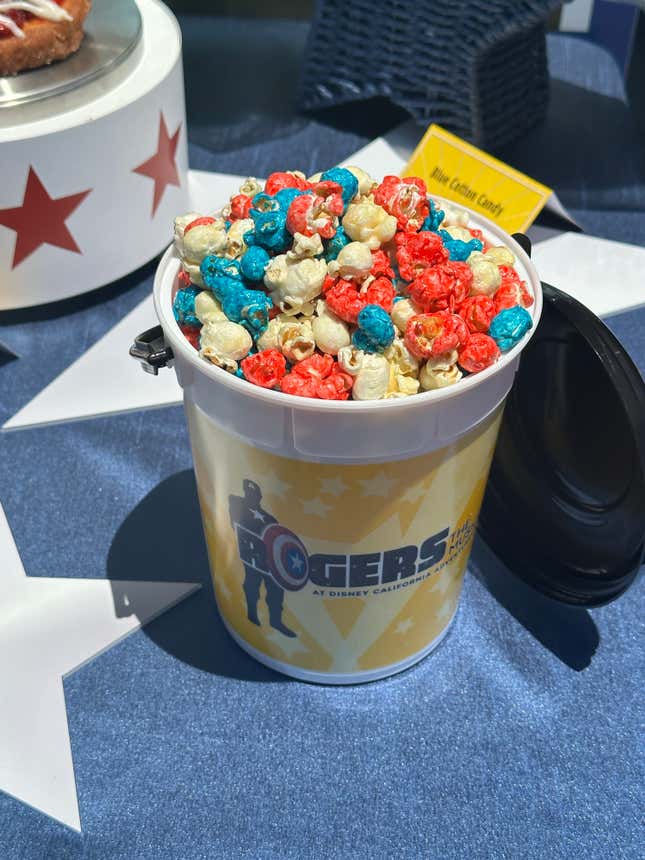 Photo: Disney Parks
Theme park foods are on another level at Disney Parks, where you can get noms inspired by the MCU, Star Wars, and beyond on your next vacation. Rogers: The Musical and its food offerings are available for a limited time.
Want more io9 news? Check out when to expect the latest Marvel, Star Wars, and Star Trek releases, what's next for the DC Universe on film and TV, and everything you need to know about the future of Doctor Who.