Disney vs. DeSantis Continues With Countersuit and DEI Outlawed
The ongoing feud continues: Ron DeSantis has doubled down on denying Disney's First Amendment and constitutional rights through the Central Florida Tourism Oversight District.
We Rode the New Disney Coaster Guardians of the Galaxy Cosmic Rewind
It's a strategy that continues to baffle even the Republican party for the precedent it sets; if a Republican governor can try to control a business they see as going against their agenda, what's to stop a Democratic governor from doing the same? This predicament was posed by political commentator Megyn Kelly on her podcast with DeSantis. "I get it," she said, but warned that it could backfire, adding, "I don't want a President Gavin Newsom doing this to conservative companies, or companies that have a more conservative viewpoint." As a presidential hopeful, DeSantis is polling way behind Donald Trump, demonstrating that DeSantis' political peacocking with Disney may not be working in his favor.
What's the latest in the Disney vs. DeSantis case?
While DeSantis continues to thwart Disney's power in Florida with accusations that undermine governor's assertions he's acting against Disney on strictly business sense, Disney CEO Bob Iger isn't taking it without a fight. "We are a pre-eminent entertainer in the world, and we are proud of our track record there. The notion that Disney is in any way sexualizing our children quite frankly is preposterous and inaccurate," Deadline reported, quoting an Iger interview with CNBC's David Faber.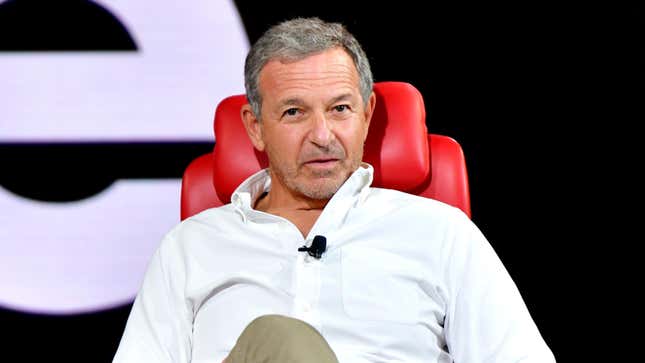 Bob IgerPhoto: Jerod Harris (Getty Images)
He continued, "We are concerned that he has decided to retaliate against the company for a position the company took on pending legislation in that state. And frankly, the company was within its right, even though I'm not sure it was handled very well, it was within its right to speak out on an issue, a constitutionally protected right to free speech, and to retaliate against the company in a way that could be harmful to the business was not something we could sit back and tolerate." Disney's lawsuit centers on combating DeSantis and the Central Florida Tourism Oversight District, who the company views as violating its First Amendment rights when they stripped away the company's control of the special district land that covers Walt Disney World.
When does the DeSantis go to court with Disney?
According to court filings, DeSantis wants to push the trial to August 2025—well after the presidential election. To make matters messier, the Central Florida Tourism Oversight District has filed a countersuit to override the development agreements that Disney reached with the special district when it was still under the company's control, which allowed Disney to retain autonomy and control over its theme parks and Walt Disney Company-operated land. This swift call was made with the approval of the board when it was still managed by Disney as the Reedy Creek Improvement District, only a few weeks before control was transferred to the state. Despite the development agreements being approved in public meetings with press present, the current Central Florida Tourism Board aims to dissolve them.
Disney quickly moved to get the countersuit dismissed, as per Deadline, under the grounds that "This case presents the fundamental question whether the Governor and the State can escape accountability for their open defiance of our Nation's most cherished liberties." (Read the full motion to dismiss at Deadline.)
It continues: "The Governor seeks to evade responsibility for his actions on a narrower ground, asserting that a governor cannot be held officially liable for implementing, administering, and enforcing state laws that punish residents for political statements violating a state-prescribed speech code. The motion seeks dismissal on Article III standing, sovereign-immunity, and legislative-immunity grounds, but those principles have no application here. Few Florida businesses are subject, as Disney now is, to governance by a special district with a Governor-controlled Board that closely regulates the use of private property with no accountability to local property owners and taxpayers," Disney affirmed. "In any event, what matters here is that the challenged laws indisputably eliminate Disney's rights and impose new burdens, thereby creating an injury-in-fact."
Does DeSantis really think he will come out on top?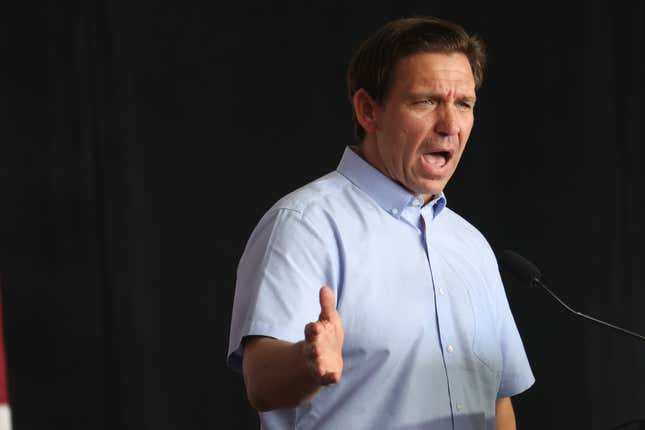 Photo: Scott Olson (Getty Images)
Ultimately, a Florida state court judge declined to dismiss Disney's effort to throw out DeSantis and his board's countersuit. Disney's not really worried, it seems; in a story with Deadline, a Disney spokesperson was quoted as saying that the decision, "has no bearing on our lawsuit in federal court to vindicate Disney's constitutional rights, and we are fully confident Disney will prevail in both the federal and state cases."
In the same story, DeSantis' press secretary Jeremy Redfern shared this statement: "We are pleased that Disney will have to defend themselves on the merits instead of having the corporate press spike the football on their behalf." The statement continued by saying "Disney has no right to its own government and special privileges. Governor DeSantis will ensure that there will be a level playing field for businesses in Florida."
In a bid to add some polish to his cringey personal vendetta, DeSantis' board most recently struck another blow by dissolving all of the district's diversity, equity, and inclusion (DEI) programs, including Disney's. Deadline shared the statement that called for the stop of initiatives to support marginalized people in the workforce: "The district's DEI committee will be dissolved and any DEI job duties will be eliminated … Under its Minority/Women Business Enterprise and Disadvantaged Business Enterprise programs, the Reedy Creek Improvement District routinely awarded contracts based on racially and gender driven goals to businesses on the basis of their owners' race and gender. Through the program, the Reedy Creek Improvement District instituted gender and racial quotas to ensure that contractors met a certain threshold of diversity. In order to meet these quotas, it is estimated that the district had to pay millions of dollars more in order to find businesses who could comply."
But the moves against Disney over political disagreements still makes the Republican party apprehensive. It's seen so clearly in polls where DeSantis is trailing far behind the frontrunner, former President Trump, who the New York Times cites is in the lead with 52% polling in support of his return to office, while DeSantis lags at 17%.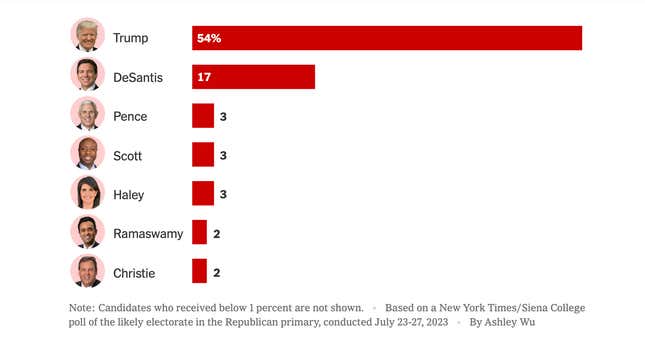 Screenshot: New York Times
Disney has yet to comment on the abolition of DEI initiatives and whether this affects its programs, like the 5 Disney Keys that center "Safety, Courtesy, Inclusion, Show and Efficiency."
io9 will update as the battle continues.
This article, which includes mention of a major studio, was published during the 2023 WGA and SAG-AFTRA strikes. Without the labor of writers and actors currently on strike, the films and TV made by said studio wouldn't exist.
Want more io9 news? Check out when to expect the latest Marvel, Star Wars, and Star Trek releases, what's next for the DC Universe on film and TV, and everything you need to know about the future of Doctor Who.