Everything Apple Announced at WWDC 2023
Although Apple's annual Worldwide Developers Conference has always had a focus on software, the company always manages to include a few surprise hardware announcements during the event's keynote address, and this year didn't disappoint with our first look at the next chapter in Apple's best-selling laptop, the MacBook Air, whose display expansion got first billing.
How To Prep Your iPhone or iPad Before Selling
If you weren't able to keep your eyes glued to the over two hour long WWDC 2023 keynote address Apple streamed live today, we've rounded up all of the major announcements and best reveals from today so you can quickly catch up and be prepared for all the discussions around the water cooler tomorrow.
'Vision Pro:' A $3499 mixed reality headset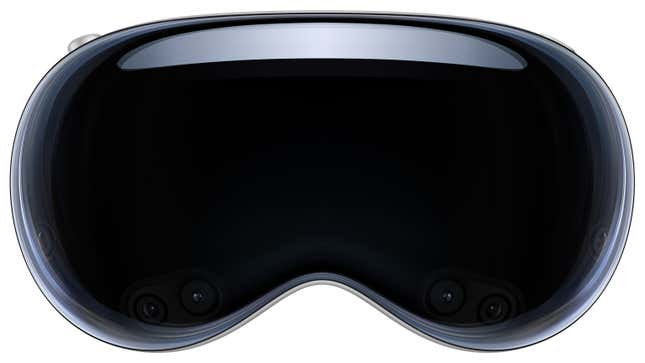 Photo: Apple
The Apple "Vision Pro" headset is a slimmed-down headset device meant to facilitate both virtual reality and augmented reality. It will retail for $3499 starting "early next year," per Apple's livestream.
"In the same way Mac introduced us to personal computing and iPhone introduced us to mobile computing, Vision Pro will introduce us to spatial computing," Tim Cook said Monday.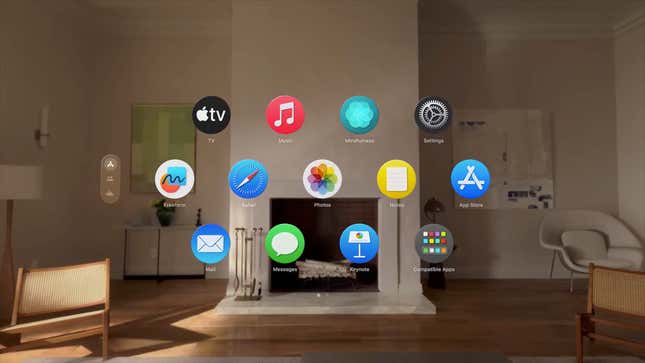 Screenshot: Apple
Vision Pro is supposed to act like a wearable MacBook with all the apps and fixings users have come to expect. The headset is meant to operate with some of Apple's most popular home, life, and workplace apps—all controlled by your eyes. This includes Messages, Books, Camera, FaceTime, Mail, Music, and Safari. The Vision Pro headset includes several passthrough cameras on its exterior designed to allow for a full AR experience, including hand tracking. Apple announced a new operating system for the headset, Vision Pro.
As far as its battery life goes, the Vision Pro's headset requires an external battery that will carry a charge that may only last about two hours, which is about the same as the Meta Quest 2 and other cheaper offerings.
Disney CEO Bob Iger joined Tim Cook to announce that Disney+ would be available on the Vision Pro as soon as it ships.
Read all about the Vision Pro.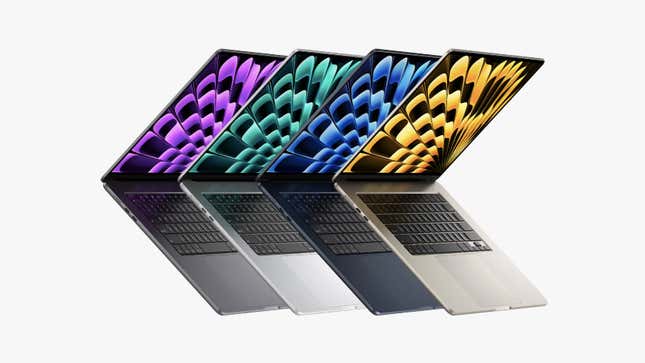 Screenshot: Apple
Despite all the anticipation for Apple's iPhone 15 and Reality headset, the company wasn't looking to disappoint laptop enthusiasts. During WWDC, Apple showed off several new MacBook models that look to plug gaps in its current lineup, including a 15-inch MacBook Air.
Putting its M2 chip in a slimmed-down chassis, Apple execs boasted of a 6-speaker sound system and 18-hour battery life. Half a pound lighter than its 13-inch predecessor at 3.3 pounds, the new MacBook is slimmed down by 40% to 11.5 milimeters thin. It includes two thunderbolt ports and comes in four colors ranging from black to grey and silver. Apple claims it runs silently.
The new Air will cost $1,299, or $1,199 for education and be available next week. The well loved older edition now costs $1,099.
Read more about the new 15-inch MacBook.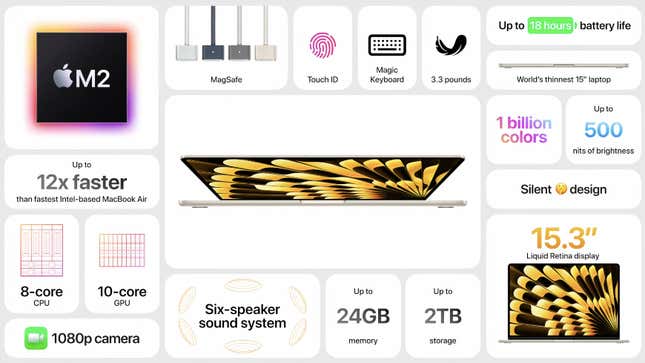 Screenshot: Apple
The Mac Studio gets an M2 processor upgrade and a resolution bump to 8K
One of Apple's premiere desktop machines, the Mac Studio, is getting a significant update with the company's more-powerful M2 processors. The Mac Studio now optionally sports the M2 Max and Ultra silicon. The Max version includes a 12-core CPU with options up to a 38-core GPU and up to 96GB of memory. Apple is promising it will be 50 percent faster than last year's iteration that ran on the M1 Ultra. Meanwhile, the Studio with the M2 Ultra includes a 24-core CPU, an up-to 76-core GPU, and 192GB of memory with 800GB/s of bandwidth.
The new Studio includes connection up to 8K resolution with 240Hz frame rates. A M2 Ultra-powered desktop includes connection for up to six of Apple's own Pro Display XDRs. As for ports, it has four Thunderbolt 4 ports, a 10GB ethernet port, one HDMI port and two USB-A and USB-C ports.
Prices are starting at $1,999, which means if it's anything like the previous model, it will go up to a potential $8,000 or more.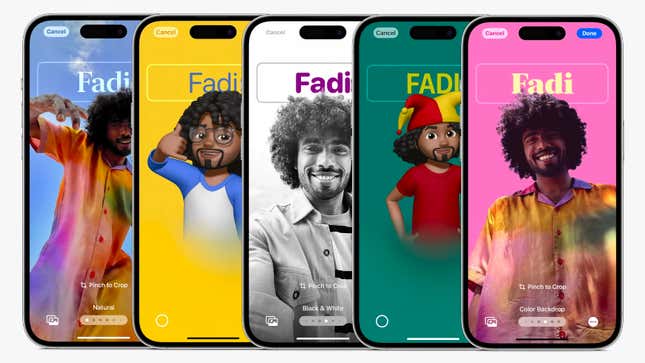 Screenshot: Apple
Apple is improving how you use the iPhone as a communication tool, including letting you monitor voicemail messages as they're being recorded.
Personalized Contact Posters in the Phone app
The Phone app will be upgraded with a feature Apple is calling "Personalized Contact Posters" so instead of just your name and number showing up on the iPhone of someone you're calling, they'll see a customized image (or memoji) and text of your choosing which could help persuade them into answering your call.
FaceTime video voicemails and live voicemail transcription
With iOS 17, FaceTime users will be able to leave a custom video message for the person they're calling that can be watched at any time after the fact.
Similarly, if you ignore a call and the person decides to leave a voicemail, you'll be able to see a live text transcription of what they're saying, with the option to answer the call after all if it seems especially important. It's a feature Android has had for years.
'Check In' in iMessage
A new feature in iMessage allows information about your progress to be shared to specific contacts, and if a user is "not making progress toward their destination," those contacts will get details about the iPhone's location, its battery level, and its connectivity, all end-to-end encrypted for privacy.
Apple Maps, now offline
The app will allow users to download a section of maps to the phone locally, so even if there's no data connection, users will still be able to pinpoint their location and continue to navigate using their iPhone.
Standby Mode: A smart home hub
With iOS 17, the iPhone's lock screen will soon go one step further and turn the device into a sort of smart hub when used horizontally and connected to a charger. Similar to Google's Nest Hub devices, iOS 17's StandBy mode will provide at-a-glance information like calendars, photos, widgets, larger notifications, and even a "range of beautiful clock styles."
A new journal app from Apple
Apple is officially introducing its own journalling app as part of the iOS 17 update, which is promised to help "iPhone users reflect and practice gratitude through journaling, which has been shown to improve wellbeing." Users will be able to document their thoughts and daily activities in the app
Autocorrect gets an improvement
Autocorrect is getting a major update with on device machine learning to improve word prediction, inline predictive text recommendations as users type, and even sentence-level grammar fixes.
Sharing AirTags
AirTags will be able to be shared with up to five other people who can track their location using the Find My app.
Read more in our story on the best new features coming to your iPhone.
'Just Siri, please:' Apple drops the 'Hey' from 'Hey Siri'
Now you can bark orders at Siri without a formal greeting on your iPhone, iPad, HomePod, or Mac.
MacOS: Safari web apps in your Dock, moving screensavers, 'Game Mode,' video call backgrounds, and movable widgets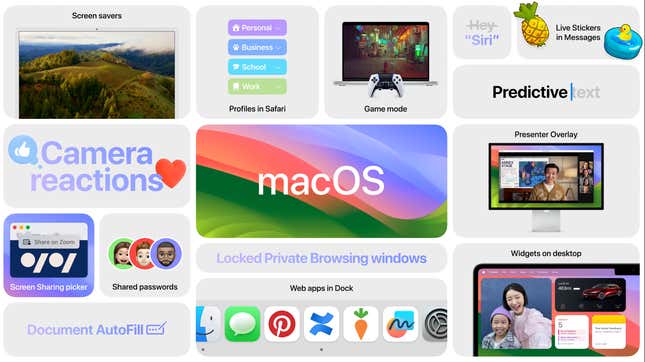 Screenshot: Apple
Mac Game Mode
The Mac gamers out there will be excited to hear about Apple's newly introduced feature "Game Mode." When engaged, the mode significantly reduces the amount of computing power spent on background tasks, thus ensuring that the game gets the highest priority of CPU and GPU power while it's in session. Apple says that the mode also dramatically reduces audio latency as well as reduces input latency with Xbox and Playstation controllers by doubling the Bluetooth sampling rate. In short: Game Mode promises a quicker, more responsive, less buggy gaming experience—and, as Apple says, promises to "give players' an edge when performance is measured in precious milliseconds."
Safari privacy and security
Apple has also updated its Safari browser with a number of new privacy protections that you might want to take a look at. For one thing, you can now lock your Safari browser windows when you're not using them, ostensibly making them inaccessible to people who aren't you. At the same time, Apple says that Safari now "completely" blocks the loading of known web trackers on the pages you visit and "removes tracking from urls as your browse in private browsing"—certainly a good thing to have if you want to avoid the roving eye of data brokers and surveillance capitalism's worst offenders. While the particular details of some of these protections haven't really been made super clear yet, Apple is clearly gunning for a beefed up privacy posture that should make the most paranoid among us quite happy.
Meanwhile, in the security department, passwords and passkeys—the anointed heir to the password—will now be securely shareable within select groups of users via iCloud keychain. This feature gives groups of users the ability to conveniently tweak security settings. With this new feature, everyone in a select group will now be able to add and edit passwords in a shareable setting to keep security codes up to date, Apple says. Pertinently, iCloud keychain is protected by end-to-end encryption, which means that your precious codes should be relatively secure.
FaceTime comes to AppleTV
Blow up your friends' faces while you blow up their spots. As part of AppleTV's upgrade to tvOS 17, an iPad or iPhone's camera can hook up to an AppleTV via the Continuity Camera feature.
iPadOS—customize your iPad lock screen
The new iPadOS is letting you customize and personalize your lock screens to a much greater degree. You'll have a variety of wallpaper options to choose from—including photo slideshows, local weather, a visualizer called "kaleidoscope," and, for the space nerds out there, astronomy (which allows you to pick any planet in the solar system as your background). At the same time, you can also make these backgrounds more productive by integrating widgets, and there's also a new feature called "live activities," where you can keep track of stuff like active food orders, travel plans, or ongoing sports games.
AirPods get software upgrades: 'Adaptive Audio' and 'Conversation Awareness'
AirPods' new Conversation Awareness feature will lower the degree of noise cancelling when you start talking. Adaptive Audio will analyze your surroundings and either activate Transparency Mode or up the noise cancelling.
Apple Health wants to know if you're depressed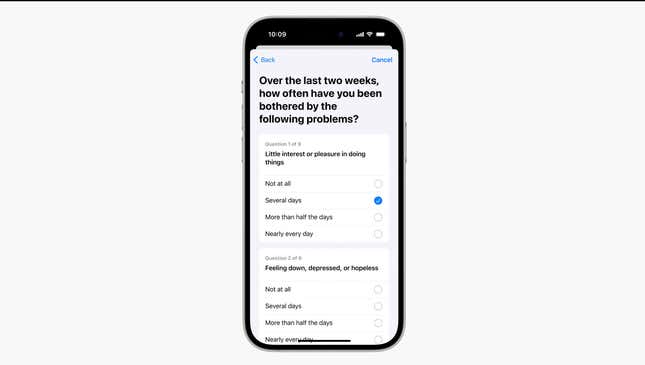 Screenshot: Apple
Apple's Health app will ask you standard psychological questions that screen for depression and anxiety.
Hold your iPad away from your face: Apple introduces 'Screen Distance'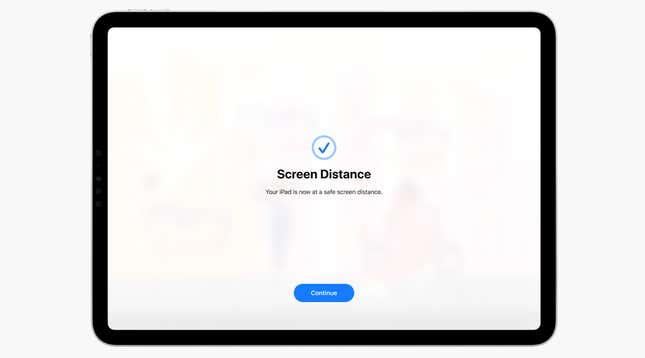 Screenshot: Apple
To help combat myopia, especially in kids, Apple introduced a feature that will notify users when they're holding their iPhones and iPads too close to their faces.