Going Reddark—Why Thousands of Subreddits Are Now Private
As you logged on to Reddit this morning for your daily browse of news and memes, you may have been greeted by a glaring inconvenience on the pages for most of your favorite communities. Beginning today, hundreds of subreddits across the social netwrk are protesting recent changes Reddit has made to its API. The forums have been set to private, invisible to nearly all users, and will remain that way for at least the next two days.
Google's Antitrust Case Is the Best Thing That Ever Happened to AI
In April, Reddit announced that it would be charging companies for access to its application programming interface (API), much the same way Twitter opted to when CEO Elon Musk realized he wasn't making enough money. Reddit did not make the cost of its API public after it was announced, and Steve Huffman, founder and CEO of Reddit, told The New York Times that he thought it was time "to tighten things up" at the company. Redditors, not one to stand idly by while their home on the internet made sweeping changes to its digital infrastructure, banded together and decided to go on strike over the company's decision. Beginning today, and for at least the next 48 hours, thousands of the most populous subreddits will be set to private in order to cease user engagement and disrupt the company's revenue stream.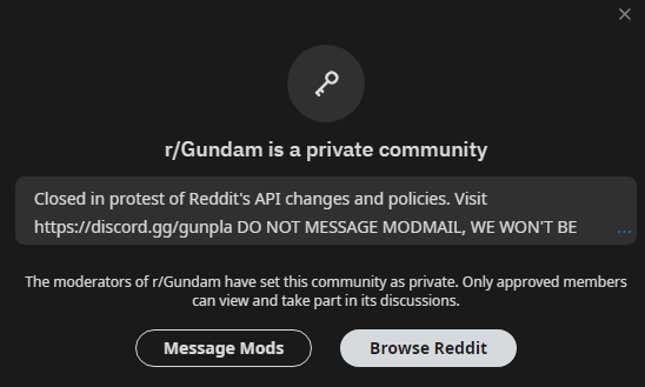 Screenshot: Gizmodo/James Whitbrook
"We understand that Reddit, like any company, must balance its financial obligations. However, we believe that the longevity and success of this platform rest on preserving the rich ecosystem that has developed around it." Reddit moderators—who are majority uncompensated volunteers—wrote in a collective letter posted to the Moderator Coordination subreddit. "We urge Reddit's management to reconsider the recent API pricing change, finding a compromise that allows third-party app developers to continue contributing to this platform's success."
A platform's API allows third-party developers to create apps and products that use metrics and infrastructure from that platform, similar to programs like Twitterific and Tweetbot. One of those apps, Apollo, has become the symbol of this current Reddit resistance. Apollo is a third-party Reddit viewer that relies on the platform's API to generate a certain browsing experience, and to avid Redditors, Apollo fixed a lot of the issues that Reddit seemingly overlooked, improving the overall browsing experience, collapsing comments with inline previews, making media displays better, and enabling a screenreader. Apollo has built a hefty fanbase of users who much prefer it to the Reddit mobile app, and founder and developer Christian Selig took to Reddit (of all places) to announce that the platform was charging $12,000 per 50 million requests to access its API—an unsustainable figure for most programmers.
"Apollo made 7 billion requests last month, which would put it at about 1.7 million dollars per month, or 20 million US dollars per year. Even if I only kept subscription users, the average Apollo user uses 344 requests per day, which would cost $2.50 per month, which is over double what the subscription currently costs, so I'd be in the red every month." Selig wrote on the official Apollo subreddit. "I'm deeply disappointed in this price. Reddit iterated [sic] that the price would be A) reasonable and based in reality, and B) they would not operate like Twitter."
Unfortunately for Apollo, the protest comes too little too late. Selig announced the untimely demise of the app on June 8 in a tweet, and Apollo will officially close down on June 30. But Apollo is not the only casualty. Unddit, an online service that allows users to view deleted reddit posts and comments, is no longer able to catalog comments. This means that deleted posts that were originally published after May 1—when Unddit was no longer able to access Reddit's API—will appear to have no comments left on them.
While the protest is a massive and noble effort, it will likely fall on deaf ears. In an Ask Me Anything post on Friday, Huffman–who goes by the username "spez"—signaled that the company would remain committed to driving profits: "We'll continue to be profit-driven until profits arrive. Unlike some of the 3P apps, we are not profitable," Huffman wrote.