How to Download Threads, Zuckerberg's New Twitter Competitor
Facebook owner Meta is set to release Threads on Wednesday, a long-awaited Twitter copy-cat app poised to cause major problems for Elon Musk. Meta just pushed up the launch data for the app, and Threads is scheduled to be available at 7 p.m. Eastern Time on July 5th, . Here's how to get the app, and steps to sneak an early peek at your Threads account using Instagram.
Nobody's Really Watching Reels
iPhone users hungry to try out Zuckerberg's latest offering can set the app to download automatically. You'll find an entry for Threads on the Apple App Store. Tap "Get," and your iPhone will download the app automatically and send you a notification when it's ready. There's nothing in the Google Play Store yet, though. Android fans will just have to feverishly refresh their phones to get in on the app's first hours. Threads won't be available in the EU yet because of some regulatory complications.
The good news is you don't have to worry about rushing to secure your username if you have an Instagram account. Meta's billing its new toy as "Threads, an Instagram app." Your Instagram username will be reserved for you, and you can automatically port over your Insta friends and followers.
You might have noticed other people posting a fancy-looking card with their Threads user name and a QR code. It's an easter egg hidden in the Instagram app, here's how to get your own Threads "cheat code" and show off to your other Meta-loving friends.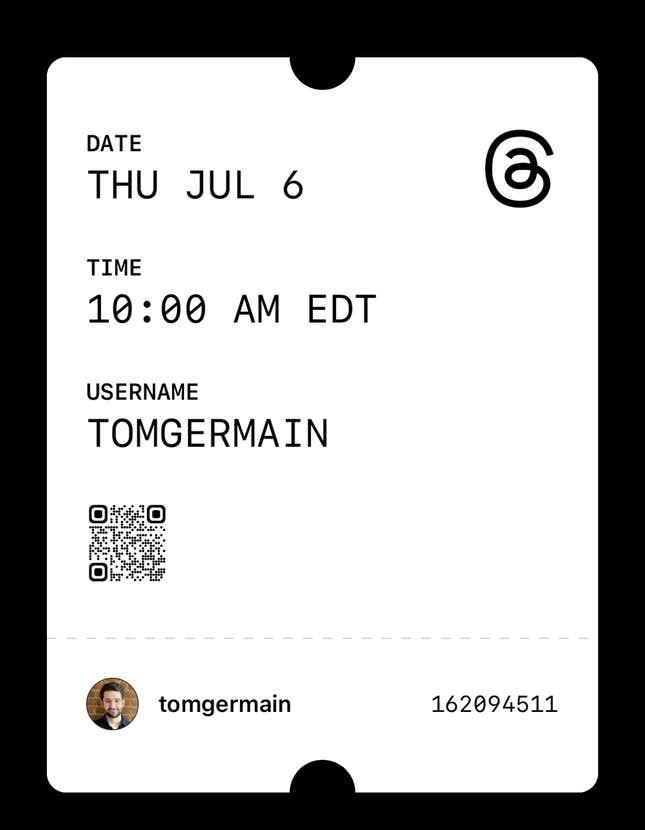 Instagram has a secret Threads "cheat code" to drum up interest.Screenshot: Meta
To get the Threads cheat code, open up the Instagram app and type "Threads" into the search bar. You should see a little ticket icon pop up before you hit the search button that reads "Admit One." If you're not seeing it, try closing and reopening Instagram, or restarting your phone.
So far, the ticket doesn't actually do anything aside from look pretty, and you don't need it to access Threads. The ticket just shows your Threads username, which, again, is your Instagram username. The QR code takes you to the Threads website if you're on Android, or redirects you to the App Store on iPhone. For now, the Threads site is just a clock counting down to the app's launch.
Your favorite extremely online Gizmodo reporters will be up bright and early to test out the new app. Check back Thursday for a vibe check, and our review of Threads' debut.
Update, July 5th, 4:15 pm EST: This story has been updated with information about Thread's new launch time.