Marvel Releases Map, Trailer for X-Men Comic Event
Location-wise, superheroes tend to operate in two modes. Either they're firmly in one city, with occasional stops at other places nearby, or they're gallivanting around basically anywhere in the world (or galaxy, in some cases). It can be dizzying sometimes, to the point that you might need a map to keep track of everyone—and fortunately, Marvel's done just that for the X-Men.
She-Hulk: Attorney at Law Episode 9 Finale Review
With Fall of X in July, things are set to go pretty bad for the mutants and their island nation of Krakoa. It's to the point where many of them will be scattered across the globe, and Marvel's released a map showing the location of each of the publishing line's key players. (Each of them, funnily enough, happen to be headlining an ongoing comic or miniseries that starts around the same time as Fall.) Several of the books are set in New York City—while Iron Man and the core X-Men team are there in their respective books, Nightcrawler will play at being a webhead in Uncanny Spider-Man and Madelyne Pryor's built her own team of Dark X-Men who've set up shop in New York's Limbo embassy. Also on that side of the country are the Uncanny Avengers—featuring Rogue, Kwannon, and Quicksilver among its mutant-heavy lineup—in Washington, DC. The final stateside mutant is Wolverine, who will be over in Utah for the next arc of his titular solo comic.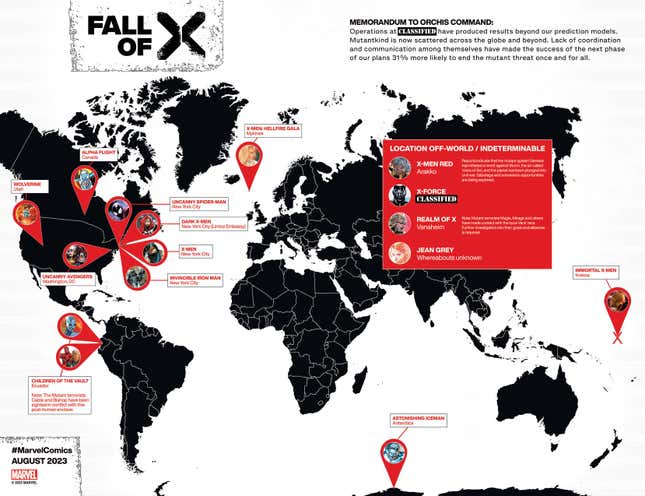 Image: Marvel Comics
Up north is Alpha Flight, a frequent ally of the mutants who've now been called on to get the Krakoans to stand down; down over in Ecuador are the Children of the Vault, who are currently doing battle with Bishop and Cable. Finally, we've got Iceman over in Antarctica for his Astonishing Iceman series, Emma Frost in Mykonos preparing for the Hellfire Gala where all this is set to pop off, and Krakoa's Quiet Council on the island itself in Immortal X-Men.
There's four pockets of mutants who can't be accounted for, though—because they're not on Earth. Over on Mars Arakko in the pages of X-Men Red, Storm is leading her Brotherhood of Mutants as a civil war is erupting on the planet. Magik, Typhoid Mary, Dani Moonstar and other mutants are in Vanaheim for Realm of X. Jean Grey is MIA for her titular miniseries, and the location of the black ops X-Force team is similarly cagey. We'll know for sure in the coming weeks as Fall of X brings the X-Men's Krakoan times to a close to make way for something new. You can get a look at Fall's upcoming slate of titles in the trailer below.
FALL OF X | Official Trailer | Marvel Comics
Want more io9 news? Check out when to expect the latest Marvel, Star Wars, and Star Trek releases, what's next for the DC Universe on film and TV, and everything you need to know about the future of Doctor Who.