Marvel's 'What If?' Novels Will Star Loki, Scarlet Witch, Venom
You've read the comics and watched the animated TV show—now prepare to enter the mixed-up, switched-up, upside-down world of Marvel's "What If…?"through the pages of three new novels. Loki, Valkyrie, Scarlet Witch, Spider-Man, Moon Knight, and Venom will star in the books from an acclaimed trio of authors.
The Woman Who Would Be Photon
As Random House Worlds' press release reminds us, "This officially licensed series reimagines the origins of iconic Marvel heroes and allows readers to discover what can happen when the fabric of reality is altered. Set in their own distinct universes in the Multiverse, each book focuses on a unique twist on an iconic Marvel origin story." They are being marketed as "adult" books, rather than YA.
Here's what's on tap from the publisher: What If… Loki Was Worthy? A Loki and Valkyrie Story by Madeleine Roux, publishing on March 12, 2024; What If…Wanda Maximoff and Peter Parker Were Siblings? A Scarlet Witch and Spider-Man Story by Seanan McGuire, arriving July 2024, and What If… Marc Spector Was a Host to Venom? A Moon Knight and Venom Story by Mike Chen, arriving October 2024. Each novel will also have an audiobook edition.
Random House Worlds released a bit more information about the first book—of course, the story starts with Loki being a complete jerk—as well as the cover, which you can see in full below: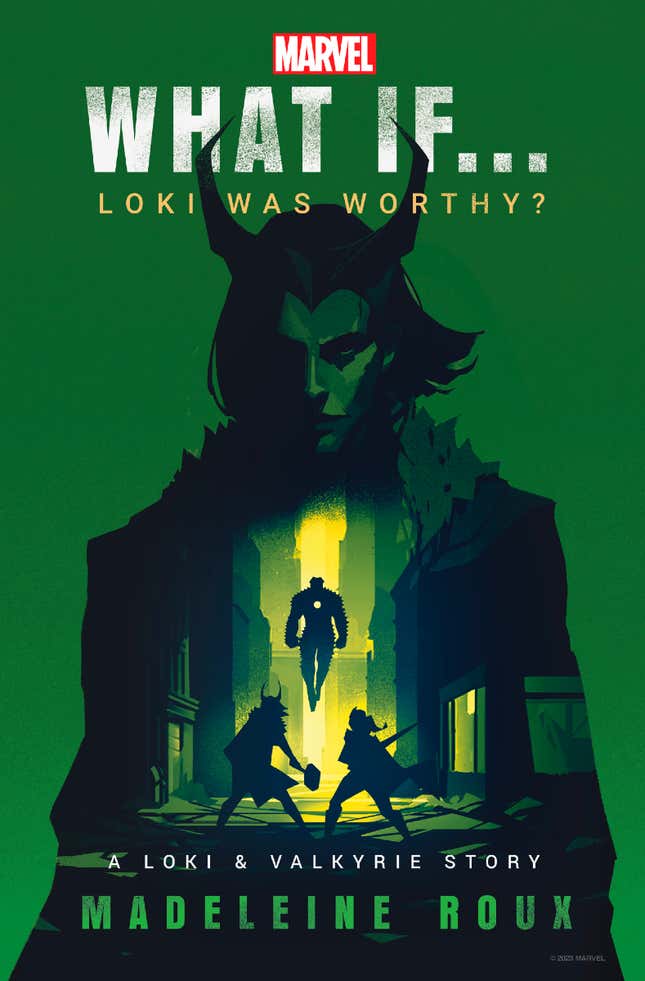 Image: Random House Worlds
So many worlds, so little time. Infinite possibilities, creating infinite realities. Long have I watched the trickster god sow chaos. But…what if Loki saved Asgard from Tony Stark's revenge?
Thor—Son of Odin, God of Thunder, wielder of the hammer Mjolnir—is dead. And Loki is responsible.
It was only meant to be a joke—tampering with the Destroyer, changing Thor's course to Midgard—a bit of mischief with a chance of maiming. But Loki's harmless prank spiraled out of control, unleashing death and destruction on New York City and the heroes sworn to protect it. The city was saved, but at the cost of Thor's life.
Furious and heartbroken, the All-Father banishes Loki to Earth for his crime. Loki finds himself in a realm of boxed wine, instant noodles, and some sort of regional performance troupe known as the "Buffalo Bills." It's a meager existence, far from Asgard's grand courts, but he finds his new friend, Brian the Gecko, a much more engaging companion than the sycophants back home. A true meeting of the minds. Loki is the God of Mischief — but he knows, deep down, that he never truly deserved to stand next to their father's golden child Thor, as two true sons of Odin.
Yet, he cannot even endure his exile in peaceful isolation. A Valkyrie — Hel-bent on carrying out her oath to Thor — barges into his trailer-home with his brother's final words from the beyond: a plea to find a certain Dr. Jane Foster and pass on Mjolnir to its rightful heir.
While Loki struggles to fulfil his brother's last request, the far-reaching consequences of his fatal prank return to haunt him. Blinded by grief from those he lost in the chaos wrought by Asgard, Iron Man vows revenge on those who consider themselves gods. Determined to protect the Earth from the might of this unpredictable alien power, he forges Asgard's own weaponry into a lethal suit of armor, set on eradicating any tether between their worlds. Consequences be damned. When Asgard looks to Loki for salvation, he must answer the question: Am I truly worthy?
Want more io9 news? Check out when to expect the latest Marvel, Star Wars, and Star Trek releases, what's next for the DC Universe on film and TV, and everything you need to know about the future of Doctor Who.