NASA Taps Firefly for Lunar Far Side Delivery Mission
Texas-based Firefly has been tasked with placing a lunar lander on the far side of the Moon, where it will drop off a pair of communications experiments.
NASA selected Firefly Aerospace to deliver multiple lunar payloads in 2026 under a $112 million contract, Firefly announced on Wednesday. The company will use its Blue Ghost spacecraft to place a European communications satellite in lunar orbit before delivering the two NASA payloads on the far side of the Moon as part of the space agency's Commercial Lunar Payload Initiative.
"Looking ahead, Firefly's evolving line of launch vehicles and spacecraft allows us to support more advanced missions over the next 5 to 10 years," Bill Weber, CEO of Firefly Aerospace, said in an emailed statement.
The upcoming mission will first deliver the European Space Agency's Lunar Pathfinder satellite to lunar orbit, where it will serve as a communications relay for other spacecraft on or around the Moon. The Blue Ghost spacecraft will use a transfer vehicle to place the satellite in orbit.
Firefly's Blue Ghost lander will then carry the Lunar Surface Electromagnetics Experiment-Night (LuSEE-Night) to the far side of the Moon, a pathfinder that will observe sensitive radio waves. The Moon's far side is referred to as the "radio-quiet zone" as it faces away from Earth, and therefore our planet's radio waves won't interfere with astronomical observations. LuSEE-Night will be used to observe the cosmic "dark ages," exploring the period between around 370,000 years after the Big Bang and when the first stars and galaxies began forming.
G/O Media may get a commission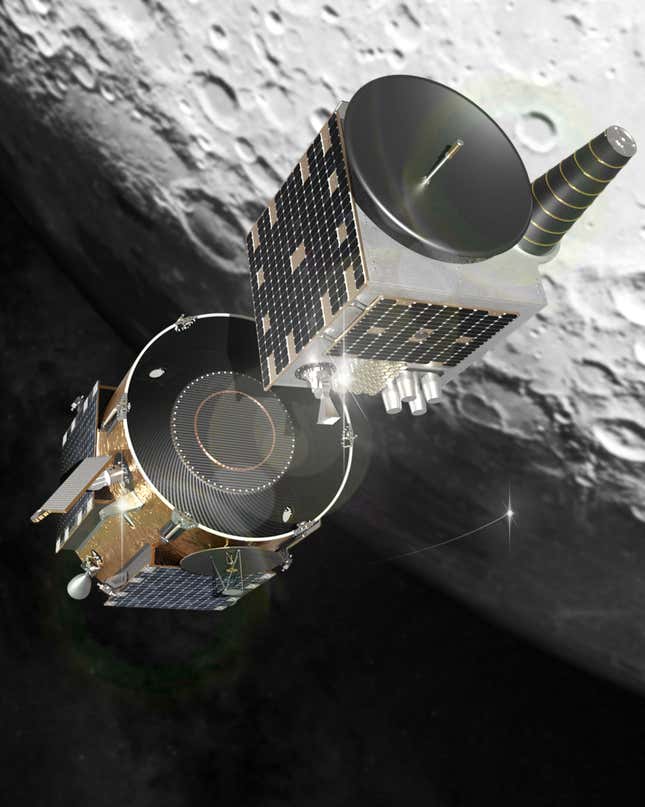 Depiction of Firefly's Blue Ghost transfer vehicle deploying the European Lunar Pathfinder satellite to lunar orbit. Image: Firefly Aerospace
The Blue Ghost Lander will also deliver a communications terminal to support LuSEE-Night and commission the Lunar Pathfinder.
This is the second NASA contract awarded to Firefly. In 2021, NASA selected the company to deliver a suite of 10 scientific experiments to the Moon's near side as part of a $93.3 million contract. The first mission, Blue Ghost 1, is scheduled to launch in 2024, carrying an additional two commercial payloads on board. "This follow-on award is another vote of confidence into our Blue Ghost spacecraft as well as the larger capabilities within Firefly's product portfolio," Jana Spruce, vice president of Spacecraft, Firefly Aerospace, said in the emailed statement.
Firefly is relatively new to the game, having reached orbit for the first time in October 2022. The company's Alpha rocket's inaugural launch didn't exactly go as planned, with the rocket delivering its payload to a lower orbit than intended. Still, even that was better than Firefly's first attempt to fly the Alpha rocket in 2021, which ended in a fiery explosion just 15 seconds after liftoff.
More: Florida Startup Moves Closer to Building Data Centers on the Moon