Pentagon Buys Up Starlink Terminals for Ukrainian Military, Despite Musk's 'WW3' Fears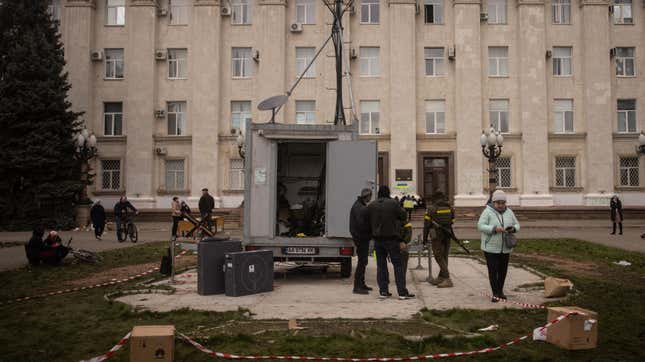 Ukraine's citizens and military has relied on Starlink terminals for communication, but the country has also previously used it to operate drones in a combat capacity, much to Elon Musk's chagrin.Photo: Chris McGrath (Getty Images)
The Department of Defense said Thursday it was purchasing SpaceX Starlink satellite communication terminals and other services, and all that's being put on a plane to be used by the Ukrainian military to help fight back the ongoing Russian invasion.
Twitter Investor Sues Elon Musk Over Sneaky Stock Purchases
Pentagon officials confirmed with Bloomberg Thursday that it was purchasing the terminals from Elon Musk's SpaceX with funding for the purchase seemingly coming from the DOD's Ukraine Security Assistance Initiative, saying "We continue to work with a range of global partners to ensure Ukraine has the resilient satellite and communication capabilities they need." Last year after the start of Russia's invasion of Ukraine, Musk promised to support Ukraine's beleaguered internet connectivity through Starlink.
Other than that, there's few details about how much SpaceX is getting for its Starlink terminals or how many the Pentagon plans to give to the Ukrainian military. The department said they weren't disclosing more for "operational security reasons" but did say "satellite communications constitute a vital layer in Ukraine's overall communications network and the department contracts with Starlink for services of this type."
This is interesting for a few reasons. One, Musk reportedly complained last October about the cost of supplying these Starlink terminals. He claimed his company spent more than $80 million supporting the country, but reports like one from our friends at Quartz questioned that number.
The billionaire later reversed his decision saying "The hell with it… even though Starlink is still losing money & other companies are getting billions of taxpayer $, we'll keep funding the Ukraine govt for free." Ukraine has also had to scrounge for funding to pay for more of these terminals that have become so critical for the ongoing war effort. By the end of 2022, Ukraine had reportedly received 22,000 Starlink terminals.
Early in 2023, Musk started to openly question supporting Ukraine's military with Starlink, especially as the satellite services had at that point been extensively used to facilitate the country's expanding drone warfare program. He told ex-astronaut Scott Kelly that "we will not enable escalation of conflict that may lead to WW3." In February, SpaceX President Gwynne Shotwell told reporters the company had taken steps to limit Ukraine's ability to use Starlink for drones.
Since the U.S. hasn't offered anything more than the barest details about the Starlink purchase, it's unclear whether SpaceX will still have a say as to how these satellites can be used. Gizmodo reached out to the DOD for comment, but we did not hear back.
What is clear is that SpaceX is very interested in cozying up to global militaries through extremely lucrative defense contracts. The company recently revealed its "Starshield" division that is exclusively geared toward using Starlink services for shielded observation, communications, and for transferring sensitive mission data.