Photos of Canadian Wildfires Blanketing NYC in Smoky Haze
New York officials issued an air quality health advisory for regions across the state, including New York City, Long Island, and New York City Metro. Smoke traveling from wildfires in Canada blanketed much of the state in a brown haze Wednesday, in some cases creating scenes that looked straight out of a disaster movie.
The New York Department of Environmental Conservation and the State Department of Health issued the advisory over concerns about the levels of pollutants in the air. The state agencies explained in a statement they were worried about fine particulate matter, tiny solid particles or droplets in the air that measure 2.5 microns or less in size. These kinds of pollutants are often produced by processes that involve combustion, such as vehicle exhaust, power plants, or fires.
The air quality advisory will be in place until 11:59 p.m. today and also covers: Lower Hudson Valley, Upper Hudson Valley, Adirondacks, Eastern Lake Ontario, and the Central New York regions.
"When many New Yorkers walked outside today, the hazy skies caused by wildfire smoke were hard to miss," New York State Gov. Kathy Hochul said in a statement. "New York State experts are monitoring our air quality every day to ensure New Yorkers have the latest information about current air quality in their communities and what they can do to protect themselves. I encourage New Yorkers, especially those sensitive to air quality, to take appropriate steps to help limit risk of exposure."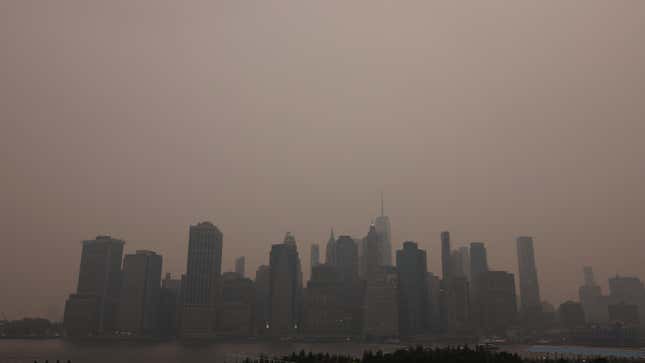 Photo: Spencer Platt (Getty Images)
In the short term, exposure to fine particulate matter can cause irritation in the eyes, nose, and throat, as well as coughing, sneezing, and shortness of breath. Exposure to elevated levels of this pollution can also aggravate medical conditions such as asthma and heart disease, state officials explained. Children and the elderly may be especially sensitive to fine particulate matter and are advised to stay inside and shut their windows.
Dr. James McDonald, the acting New York State health commissioner, recommended that people avoid "strenuous outdoor activity," such as exercise, and keep people who may be at high risk indoors.
"People who are especially sensitive to the effects of elevated levels of pollutants, including the very young and those with pre-existing respiratory problems such as heart disease or asthma, should avoid spending time outdoors, if possible," McDonald said. "Those who experience symptoms or have symptoms that worsen should consider consulting their personal physician."
Click through to check out how smoke covered New York City and other areas on Tuesday.