Star Trek 4 Should've Been This Weekend's Blockbuster
Making movies is a hard endeavor, and it's very easy for things to go wrong. The last few years have proven that numerous times as various tentpole blockbusters have been delayed (sometimes more than once)—or, in the current case of the WGA strike, have had their productions halted for the foreseeable future. While this weekend's big release is Paramount's Transformers: Rise of the Beasts, once upon time, it would've been the studio's other big sci-fi franchise with a new movie out being watched by millions.
Luke Macfarlane | First Fandoms
Back in mid-2021, Paramount announced a release date shuffle for various movies back then, the likes of which included Top Gun: Maverick and the first part of Mission: Impossible—Dead Reckoning. In another timeline, there would've been a Star Trek that came out this past Friday, June 9, 2023, and likely with an actual subtitle in order to follow in the footsteps of recent live-action flicks like Star Trek: Into Darkness and Star Trek Beyond. What's unclear is what kind of Trek movie we'd be getting: at the time, the film was to be produced by J.J. Abrams, who produced the reboot movie trilogy. During that same time, though, Paramount had several Trek movies in production—different projects were in the works from Legion's Noah Hawley, Star Trek: Discovery writer/producer Kalinda Vasquez, and even Quentin Tarantino.
But none of those came to pass, and the movie arm of the franchise has rather openly struggled over the last few years. In early 2022 during a Paramount investor meeting, Abrams said a fourth film starring the reboot cast was for sure happening…but said actors, which includes John Cho, Zachary Quinto, and Zoe Saldana, were said to be completely blindsided by the news. Even Chris Pine, who may have been aware of a fourth movie before Abrams' announcement, wasn't fully in the loop on if the film was happening. This movie already had some false starts before then, with the most recent of the bunch being that WandaVision director Matt Shakman left the project in order to direct Fantastic Four for Marvel.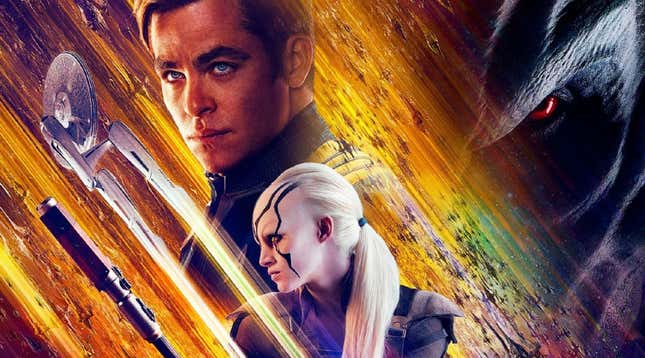 Image: Paramount
As of this past March, there's still hope that Star Trek 4 will manifest in some form. Writers JD Payne and Patrick McKay have talked about how their version of the film (to be filmed by then-director SJ Clarkson) would've brought back Chris Hemsworth's George Kirk via time travel for a father-son adventure. Pine's really the only cast member who's gotten the chance to speak their thoughts on the would-be movie, and he said back in April 2022 that Star Trek films kind of shot themselves in the foot by trying to be action tentpoles like Marvel. Should a Trek 4 ever happen, he thinks that the films should zero in on appealing to fans of the franchise—and most importantly, not cost hundreds of millions to create.
As its actors get older and move on to other things, or have become disillusioned with having their careers locked to franchises, it may be that we never get a Star Trek 4. Depending on how things go, we may not even get another Trek movie at all, or at least not for a long time. Good thing, then, that there's multiple shows that have come out (and will come out) since Star Trek Beyond, where the property seems to be thriving. All of it's over on Paramount+.
Want more io9 news? Check out when to expect the latest Marvel, Star Wars, and Star Trek releases, what's next for the DC Universe on film and TV, and everything you need to know about the future of Doctor Who.