The CES 2023 Robots That Want to Replace Your Family Pet
The KEYi Loona robot is extremely expressive, especially compared to other similar bots, many of them debuting at CES 2023.Gif: Kyle Barr/Gizmodo
As a kid, I had real pets and toy pets. The real pets loved me, for the most part. The plastic dogs of the early 2000s, whether they were the sharp-edged Poo-Chi or the iRobot, didn't like me nearly as much. Probably because of how often they ended up getting kicked around the basement floor.
So what's changed from then? Apparently everything, if I'm to believe what I'm told. CES brought a whole new slate of pet-like bots to my attention, giving both me and kids a new idea to chew on, since companies are trying their damndest to put more and more functionality into not-pet pets.
Of course, none of these toys have Boston Dynamics robot dog levels of sophistication, but it also seems many of these small bots are trying to be placeholders for an actual animal. This comes with the ability to "train" some of these toys, which the companies behind the Dog-E and Pyxel both claimed they were doing, to different degrees.
My demo with the Dog-E was surprising for how little things seemed to have changed in the multiple decades since I was a child. Toymaker WowWee touted its app-enabled $80 toy dog by first mentioning it has a marked collectibility, since each individual toy will have a different combination of colored lights, sounds, and even "personality." What defines personality here? Well, company representatives told me the pupper could be playful while others are more shy.
No, the dog won't change its facial expressions, but it will wag its tail with the same sound as an old antennae swishing and swacking back and forth. When you pet its head, the robot dog should do something like give you a lick or nuzzle your hand. But here's where the modern bit comes in: you can "train" it, AKA "program" it, by getting it to do tricks or show text or emojis.
G/O Media may get a commission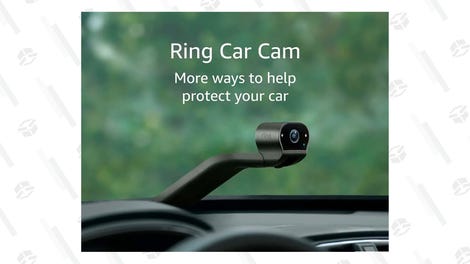 $50 off preorder
Ring Car Cam
It's a camera. For your car.
The Ring Car Cam's dual-facing HD cameras capture activity in and around your car in HD detail.
The Pyxel robot can be programmed to do tricks like spin in a cirlce.Gif: Kyle Barr/Gizmodo
That engineering functionality could be directly compared to Pyxel, a $125 educational robot that allows young users to code functions for the little robot dog to perform, whether that's to run around in a circle or light up in delight when you pat its head. The app that connects to Pyxel first recommends kids start on Blockly, a kind of ultra-simplified programming language, before they move on to programming in Python.
This isn't the first toy out there that's trying to teach kids to code, but Educational Insights, the company that's making Pyxel, told me there wasn't necessarily a wrong answer with its robopet. They want children to "break stuff, we want them to play." You can also go back and forth from Blockly to Python code, which is a neat little feature for those trying to learn more advanced sequences.
I can get behind that ethos a little more than I can behind the scooty robot toy with a screen called Miko. Coming from a Disney-backed company, the regular Miko has already been on the market since 2021, but the company is releasing its $299 Miko Mini and is planning on a larger version later this year. The device is meant to be a kind of "learning coach for kids," according to the company, since you can speak to it, play games with it, watch TV shows on it, and more. They tout that parents or guardians can use the device to create learning plans, whether that's for reading math or spelling.
However, one of Miko's more concerning features is the AI-based facial recognition technology built into the device. Though CEO Sneh Vaswani told The Washington Post that user data is locally stored on the device, Miko makes a point of adding kids' and parents' faces into its system when first setting it up.
The Dog-E bot on the left and the Miko bot on the right are both competing for the family floor space to zip around on. Photo: Kyle Barr/Gizmodo
Similarly, one of the main selling points of the Loona robot, made by KEYi, is that it recognizes up to 20 faces, and is supposed to be able to recognize body posture and gestures. The company even said the device will monitor a family's home when they're away, but like every device with recognition software installed, it immediately brings up questions of privacy. The Android app states that the company doesn't share info with third parties, though Gizmodo reached out to the company for its privacy policy regarding the device itself.
Loona was perhaps the most lively of the devices I tried. It should be, considering its going to cost $449 or more if you didn't get in early on the device's Indiegogo or Kickstarter. Unfortunately, its voice recognition was hampered by the cramped confines of the CES 2023 convention hall, but the little thing roamed around a small area and "investigated" curious objects, like one of the company reps' shoes.
I picked it up to feel its weight (very light), which it apparently did not like as it shook slightly and its eyes started to shrink. It likes being pet, and will respond to simple voice commands like "Loona, dance." KEYi reps told me they plan to add more commands via updates in the future. It's hard not to be endeared by just the look of it, but in other ways it feels brittle, so a younger version of me would likely kick it across the room and break it much too easily.