Transformers and G.I. Joe Now Interconnected, Owned by Skybound
Transformers and G.I. Joe are two of Hasbro's biggest properties, and the pair have crossed over numerous times over the decades. Coming off the heels of the recently released Transformers: Rise of the Beasts movie, Hasbro is going all in on mixing its two brands together, and throwing them into a shared universe.
'Boba Fett is Always Gone'
IGN revealed that Skybound Entertainment, the media company from Robert Kirkman (The Walking Dead, Invincible) is heading up the effort on the comics front. As part of the newly christened "Energon Universe," Transformers is getting a new monthly comic from writer/artist Daniel Warren Johnson (Do a Powerbomb, Jurassic League), while Joe will have a limited run of character-centric one-shots starting with issues focused on Duke and Cobra Commander. The first will come from Joshua Williamson (Dark Crisis) and Tom Reilly (Fury), and the latter from Williamson and Andrea Milana (Dahlia in the Dark).
Kirkman promised that a full-blown Joe comic will come eventually, but wanted to focus on a small cast before "[ramping] into G.I. Joe in a way that you see the value and how great these characters are the way that we do." Starting out, the military organization doesn't exist yet, but the formation of it and Cobra will both play out over the course of the one-shots. "You're going to kind of get to see these characters from the ground up and have a really individual experience. […] You'll have gone on a journey with them, so that's kind of our approach."
As for the how of this in the comics themselves…

Image: Daniel Warren Johnson/Skybound Entertainment
The Energon Universe officially begins in the pages of Robert Kirkman and Lorenzo De Felici's recently released Void Rivals #1. Late in the issue, the book's two leads—Darak and Solila, pilots from different factions who crash land on an alien planet—come across Jetfire, a Transformer in stasis. But as Kirkman noted, Void Rivals doesn't just become a comic about the Transformers. Dark and Solila will still be Void Rivals' leads, but the appearance of Jetfire helps widen the book's scope and provides "a plethora of alien races and different characters…that these rivals will be interacting with."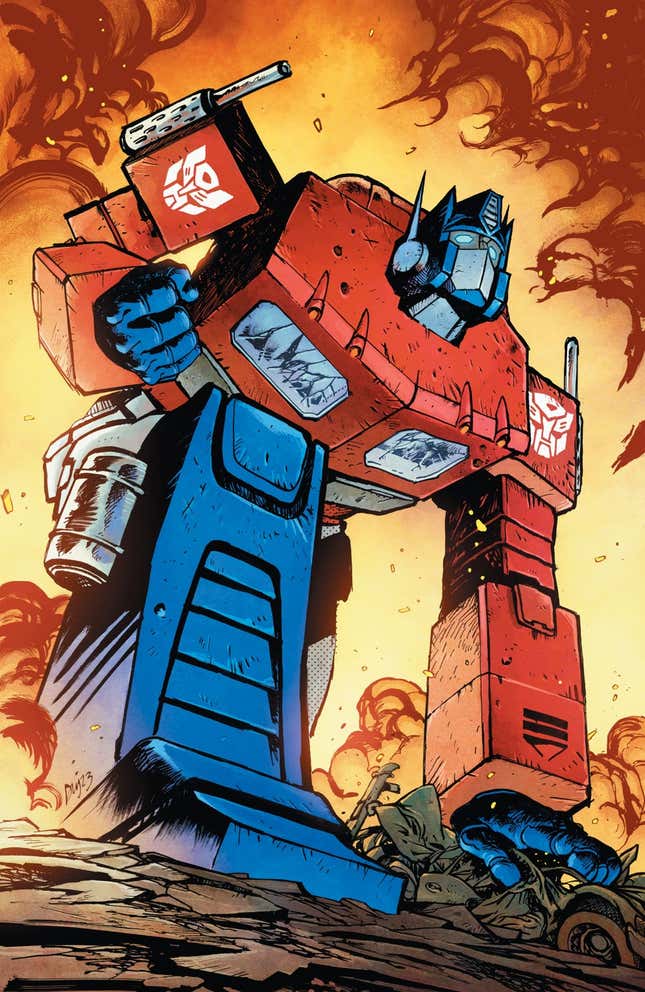 Image: Daniel Warren Johnson/Skybound Entertainment
Kirkman further explained his desire to tie Transformers and Joe together years ago when Hasbro was considering opening up the licenses. Upon hearing that, Kirkman said he instantly started trying to form ideas that would become the Energon Universe, and had a desire to "figure out new ways into these characters. The Energon Universe kind of strips things back to the beginning and it's going to kind of be a ground-floor exploration of these characters."
Part of what allowed Void, Transformers, and Joe to stand together is how each of them tell stories of neverending conflict between opposing sides. Calling the concept "magic simplicity," Kirkman said he found "a lot of originality and a lot of room to explore within that opposing force dynamic." And while longtime fans know what to expect from Transformers and Joe on that front, he said Void will be "a completely different concept with a completely different narrative built around that rough skeleton."
Rise of the Beasts has already teased out Hasbro's plans to bring Transformers and G.I. Joe together, so the comics' Energon Universe gives another idea of how the two franchises could link up on the silver screen. And it has the added benefit of lacking any real baggage while also leveraging the clout of two big-name properties to draw attention to a brand new comic.
Transformers #1 will release in October, while G.I. Joe: Duke comes out in December and Cobra Commander in January 2024. Void Rivals will continue with its second issue in July.
Want more io9 news? Check out when to expect the latest Marvel, Star Wars, and Star Trek releases, what's next for the DC Universe on film and TV, and everything you need to know about the future of Doctor Who.