Twilight Zone's Movie Can't Escape Its Tragic Shadow
TV shows getting big to the point where they warrant a full-on movie doesn't always happen. But when it does, it's significant in some kind of way, even if it's just the fact that the creators involved managed to pull it off in the first place. And in the case of the movie for CBS' Twilight Zone, its significance is owed to the circumstances of its production.
Is Taylor Lautner in the New Twilight TV series? | io9 Interview
Originally released on June 24, 1983, Twilight Zone: The Movie was based on Rod Serling's sci-fi anthology series of the same name, which had concluded nearly two decades prior in 1964. Like the series, the movie was split up into multiple segments, each of which featured their own casts and directors. The first segment, "Time Out," was written and directed by filmmaker John Landis (father of Max Landis), and resulted in the deaths of lead actor Vic Morrow (playing the character of Bill Connor), and child actors Myca Dinh Le and Renee Shin-Yi Chen.
On July 23, 1982, Landis violated California's then-child labor laws by casting Chen and Le without the required permits. He further broke the law by paying them to show up on set at night, which was already a hazard for the kids because of the explosives that would be used to simulate the experience of the Vietnam War. Shooting the night scene also involved a low-flying helicopter, which spun out of control from the explosives and killed all three of them instantly. On-set deaths are already tragic enough, but what made this one so infamous is that it seemed completely preventable from the very start: the kids' parents weren't informed that their kids would be near helicopters or explosives, something even the film's casting agents were reportedly unaware of. And per testimonies at the near decade-long trial relating to the accident, Landis ordered the helicopter to get lower than was originally intended (or needed) and allegedly dismissed concerns about its low height to begin with.
Twilight Zone: The Movie – Original Theatrical Trailer
The helicopter accident has come to be definitive in a number ways. For Landis, it led to the erosion of his friendship with the film's co-EP Steven Spielberg, and actor Eddie Murphy, who'd worked with Landis three times (two of which were after the Twilight Zone movie's release). Similarly, though the director was acquitted alongside production manager Dan Allingham, associate producer George Folsey Jr., and others in 1986 and 1987, that verdict hasn't stopped the incident from becoming a reference point (or punchline) when talking about him. The vibes around that part of the film were so bad that even a second assistant director opted to be credited under the name "Alan Smithee," a pseudonym used when they wanted to distance themselves from a troubled project.
For Hollywood at large, it led to the creation of the California Fire Department's Motion Picture & Entertainment Unit, which enforces fire safety regulations and requirements within the entertainment industry. A safety committee for the Directors Guild of America (DGA) would start publishing regular safety bulletins and a telephone hotline related to on-set safety, and began to actually discipline members who violated safety procedures on-set. As a result of actually enforcing its rules, on-set deaths fell by nearly 70% between 1982 and 1986.
Even with new safety measures then and now, though, injuries and deaths still happen while making movies. Sometimes, you hear a story like Tom Cruise breaking his ankle doing a jump for Mission: Impossible—Fallout and think nothing beyond, "Ooh, that's rough." In other instances, things are considerably more tragic: in 2016, Dylan O'Brien very nearly died while filming a stunt for Maze Runner: The Death Cure; stuntwoman/motorcycle racer Joi "SJ" Harris died the following year filming a stunt for Deadpool 2. In 2021 on the set of Rust, Alec Baldwin fired a live round from a prop gun that killed cinematographer Halyna Hutchins and injured director Joel Souza. It was only recently that the saga of that incident came to an end, with charges against Baldwin being dropped as of this past April.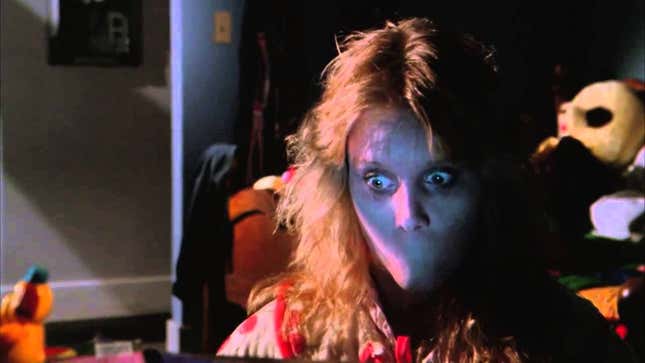 Image: Warner Bros.
In the decades since the Twilight Zone movie's release, it's hard to determine if things truly have improved, or if they've just evened out to being basically the same. This probably isn't the worst tragedy in all of Hollywood, but just saying that is damning in and of itself. It's only recently that we've really begun to reckon with how the entire entertainment industry—from writers to VFX artists, to those working over in animation—can be needlessly exploitative and harmful for people who want to be a part of it. Nearly dying shouldn't be part of one's welcome into making a movie.
Want more io9 news? Check out when to expect the latest Marvel, Star Wars, and Star Trek releases, what's next for the DC Universe on film and TV, and everything you need to know about the future of Doctor Who.