Watch Live as Astronauts Install Solar Arrays Outside the ISS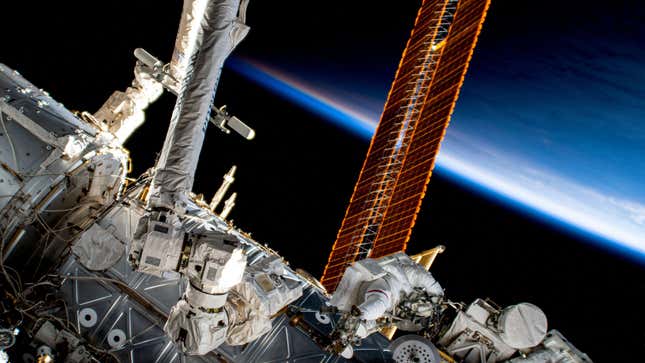 NASA astronaut Steve Bowen during his eighth spacewalk outside the ISS.
Photo: NASA
The International Space Station (ISS) is about to get outfitted with new solar arrays to increase its power, and two astronauts are ready to put in that orbital handy work.
Astronomers Could Soon Get Warnings When SpaceX Satellites Threaten Their View
NASA astronauts Steve Bowen and Woody Hoburg will embark on a six-and-a-half hour spacewalk outside the ISS to install the Space Station Rollout Solar Array (iRosa). The spacewalk is set to begin at 9:15 a.m. ET on Friday. The space agency will broadcast the action live through NASA TV, as well as its website, with coverage beginning at 7:45 a.m. ET. You can also tune in to the ISS livestream through the feed below.
NASA Live: Official Stream of NASA TV
The pair of astronauts will install a roll-out solar array on the 1A power channel on the station's starboard truss structure. This will be the fifth set of iRosa solar arrays installed on the ISS, which arrived to the space station on Tuesday courtesy of SpaceX's most recent Dragon cargo mission.
On June 15, the same astronauts will venture out of the ISS again to install the sixth set of solar arrays on the 1B power channel on the starboard truss. The iRosas are designed to increase the space station's power generation capability by 30%, increasing the station's total available power from 160 kilowatts to up to 215 kilowatts, according to NASA.
This will be Bowen's ninth spacewalk. The astronaut recently embarked on a spacewalk outside the ISS alongside United Arab Emirates astronaut Sultan Al Neyadi to continue installing hardware to support future power system upgrades to the ISS.
For more spaceflight in your life, follow us on Twitter and bookmark Gizmodo's dedicated Spaceflight page.