Watch NYC Skyline Turn Orange in This Wild Time Lapse
A jaw-dropping time lapse from the National Weather Service showed how New York City's air turned a shocking hazy orange in just a matter of hours on Wednesday as parts of the state grappled with the smoke from wildfires burning across Canada.
Biggest Forest Fire in New Mexico History
The effects of the unhealthy air were still being felt on Thursday. On Wednesday, New York Gov. Kathy Hochul announced that the state would provide one million N95 face masks for residents throughout the region, including 400,000 in New York City alone. N95 masks filter at least 95% of airborne particles and provide protection in wildfires, according to the Centers for Disease Control and Prevention.
The New York Department of Environmental Conservation and the State Department of Health issued another air quality health advisory for all of New York on Thursday, with the exception of Adirondacks. The agencies expected air quality to remain at "unhealthy" levels for the New York City Metro area, Long Island, Eastern Lake Ontario, and Central and Western New York through Thursday.
"Every part of New York State has experienced unhealthy air quality in the last 24 hours as a result of Canadian wildfires, and our number one priority right now is keeping New Yorkers safe," Hochul said on Wednesday. "I am encouraging everyone in impacted regions across the state to stay indoors and reduce your exposure to this harmful smoke until air quality improves."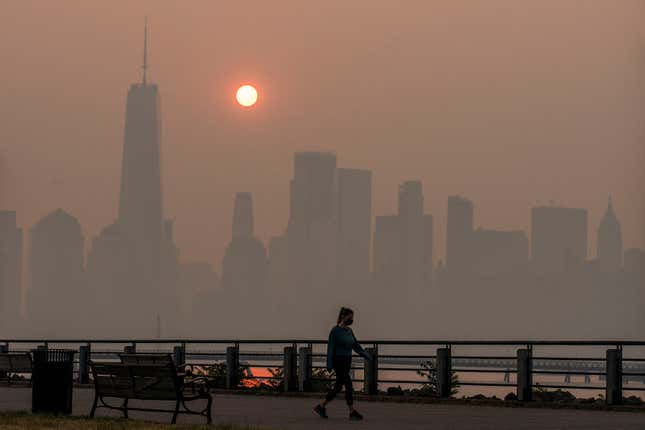 The New York skyline on Thursday morning.Photo: Eduardo Munoz Alvarez (Getty Images)
Hochul emphasized that prolonged exposure to this harmful air can lead to negative health effects. These effects include coughing, trouble breathing normally, stinging eyes, scratchy throat, runny nose, shortness of breath, chest pain, headaches, wheezing, and a fast heart rate, as explained by the CDC. Specific groups, including older adults, pregnant women, children, and people with preexisting respiratory and heart conditions are more likely to get sick if exposed to wildfire smoke.
While the scenes from New York have made headlines, the smoke from the Canadian wildfires has led to air quality alerts in other states, including Massachusetts, New Jersey, and Connecticut. At one point on Wednesday, New York City had the worst air quality on Earth.
New York state officials recommended people limit their time outdoors to reduce their exposure to the smoke and keep windows to homes and buildings closed. Residents are also being urged to avoid strenuous outdoor activities and any prolonged exposure to the air outdoors.
People in New York City can obtain the free N95 face masks being offered by the government at the following locations: Grand Central Terminal; Penn Station, the Fulton Center; Jamaica Station; the Main Concourse of the Port Authority Bus Terminal, South Wing; the Denny Farrell Riverbank State Park in Harlem; and the Roberto Clemente State Park in the Bronx.