Worlds Beyond Number Podcast Formed by TTRPG Veterans
The tabletop roleplaying space has plenty of Actual Play series to grab the attention of fans of the medium, and Dimension 20 is one of the larger series out there. Through over a dozen seasons, the Dropout series has allowed a fairly rotating roster of cast members to stretch their chops in the space and dip into other TTRPGs beyond Dungeons & Dragons. And for a handful of those actors, they're now branching off to create their own specific, non-corporate space in the Actual Play world.
After being teased throughout the last week of 2022, the new tabletop RPG podcast Worlds Beyond Number was formally announced. Headlining the cast are Brennan Lee Mulligan, Erika Ishii, Aabria Iyengar, and Lou Wilson, who've all been on multiple seasons of D20 and also Critical Role, and Fortunate Horse creative director Taylor Moore. Per the website, the new creator-owned series will be about "playing games and making up stories with your friends. Across genres, across worlds, from immersive, years-long cinematic epics to wild, chaotic one-shots, the possibilities are…a lot."
Right now, it's not known how this'll effect Dimension 20 going forward—Mulligan co-created the show and is a frequent Game Master, as is Iyengar, who held that role in the recently concluded A Court of Fey & Flowers. The show's current season Neverafter stars Wilson and has Mulligan back as DM (both of whom were also in Court), but in recent seasons such as Coffin Run and 2021's Shriek Week, neither have appeared in any capacity. With Worlds now thrown into the equation, it may be that Dimension 20 will bring in more "new" GMs and actors so its more recurring cast members aren't burnt out on all things tabletop.
Following character and world reveals throughout the month of January, February will see the launch of Worlds Beyond Number's Patreon. Patrons will get access to episodes a week before public subscribers, in addition to other benefits. Finally, the first episode of the first story will be made available for free to the public in March. It's unclear what the release schedule will be for episodes going forward.
G/O Media may get a commission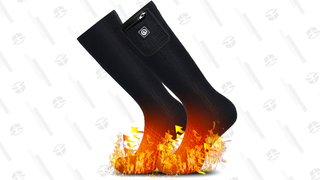 Keep those toes toasty
You lose heat through your feet and head—so warm up with these rechargeable heated socks with an impressive battery life.
Want more io9 news? Check out when to expect the latest Marvel, Star Wars, and Star Trek releases, what's next for the DC Universe on film and TV, and everything you need to know about the future of Doctor Who.